What comes to mind when you think of Provence?  Olives, rosé wine, cicadas and of course lavender. Every year, around the end of June and beginning of July, parts of the Provençal countryside are transformed with the colour of lavender fields in bloom.  It is like someone has rolled out a giant blue carpet to cover the hills and country side around.
It is a beautiful sight and people come from round the World to see it.  However, lavender growing is part of a long tradition here and is not grown just for aesthetic reasons or to lure tourists, but because of the many qualities that lavender, in particular the oil, has.
I accompany my friend Celia Lindsell on a trip to the lavender fields below Mont Ventoux.  Celia uses lavender in many of her homeware designs, door stops, giant lavender bags and pillows as well as lavender oil which she sells on her website, www.celialindsell.com.
Our first stop is to meet Sylvie Barjot and her father at her home in the foothills of Mont Ventoux who grow their lavender organically.  They have a lavender distillery and Sylvie has lived here all her life, as have her parents and their parents before them.  It looks like an idyllic spot, a cluster of houses belonging to her family, surrounded by lavender fields.  But life here is hard, the terrain is poor and the wind blows most days, however these are ideal conditions for lavender, as the plant loves the rocky, chalky soil of these parts.
Originally there were only sheep grazing on these hills and the shepherds and a few sheep farmers collected the lavender, but a growing demand from the not so far away perfumeries in Grasse in the 19th Century, meant that more people became involved with lavender cultivation and the production of oil.   Sylvie and her father still produce the oil in the traditional method in their distillery.
In late June, early July, when the lavender is in flower, they cut the plants halfway down the stem and then lay the cut bunches on top of the stubble to dry out for a few days. Next they are gathered and placed into a huge drum and pressed down with a stone.
The used lavender stalks from a previous pressing are loaded into the furnace to create the fire to heat the lavender.  Nothing is wasted.
I was never very good at physics, and so Sylvie's father shows me this diagram that he has drawn on the side of one of the cooling drums, to help me to understand the process of how the oil is extracted from the plant.  I hope it means more to you than it does to me!
He also explains to me how lavender is a general cure-all, and shares some of its uses with me; a few drops on a sugar-cube will keep a cold at bay or soothe a sore throat; it can be used as an antiseptic, as apparently it was during WW1.  As a child he was given a drop or two on a sugar cube against worms, which apparently every child had in those days and I've heard it is effective against head-mites or nits.  It can be used as an insect repellent against mosquitoes and also to alleviate itching after you've been bitten; it will keep the moths out of your woollens, a few drops on a handkerchief in the cupboard will keep them at bay.  He also told me that a few drops in a small cup of white vinegar added to the final rinse of your washing cycle will act as a natural fabric conditioner, the vinegar helps against the ravages of the calcaire, calcium in the water, which is the bane of our Provençal lives and the lavender softens the fabric, making it moth resistant and sweet smelling at the same time.  Whether it works or not, it makes the house smell lovely whilst the washing is on!  Besides being an antiseptic, the oil also has anti-fungal properties and can be used to cure nail fungus and no doubt Athletes foot.  In fact it seems that there is little that it doesn't do!
There are two types of lavender grown in these parts, la lavande vrai, or fine, fine lavender, which is used mainly as a relaxing essential oil and in perfume and which is the most expensive, but when you think that it takes 1 hectare of lavender plants to produce 18 kilos of oil, you can understand why, and there is le lavendin, which is a hybrid of the fine lavender plant and aspic lavender.   This produces 80 kilos of oil per hectare and is therefore cheaper, its essential oil is stimulating and this is what is used in the many products you can buy, body lotions, soaps, hair care, bath products, candles, massage oils, etc..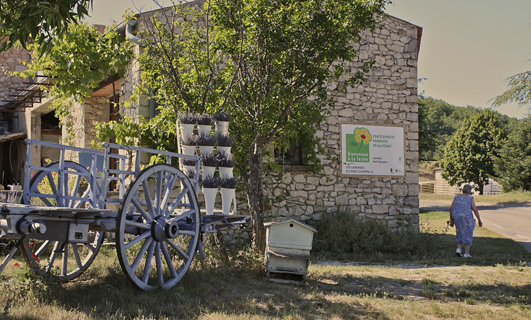 There is a Lavender Route which you can take, that leads you through the lavender fields and passed the shops and stalls that sell lavender products alongside the road and you can also visit participating farms and distilleries.   These days lavender is produced much more cheaply in China and Central Europe than it is here and so it is important that these small artisinal farms can earn enough to keep up the traditions of lavender farming in Provence for us all to visit and enjoy.   So make sure you stop by and buy something!
Meanwhile please visit Celia Lindsell's website at http://www.celialindsell.com, as the lavender she uses in her products is sourced from these small producers.  She has also very  kindly donated a set of 3 of her gorgeous lavender bags as a giveaway on Provence Calling.
All you need to do is 'Like' my facebook page (in the right hand column) and leave a comment below, and a little bit of Provence could be winging its way to you.  The winner will be drawn from the most amusing comment, using a random number generator on August the 8th.
Happy commenting and bonne chance!