This time of year, wandering through the market in Tarascon, or any other town or village in Provence, it's easy to see how the dish ratatouille came about; the vegetables, crammed next to each other on trestle tables are practically asking to be taken home and cooked together.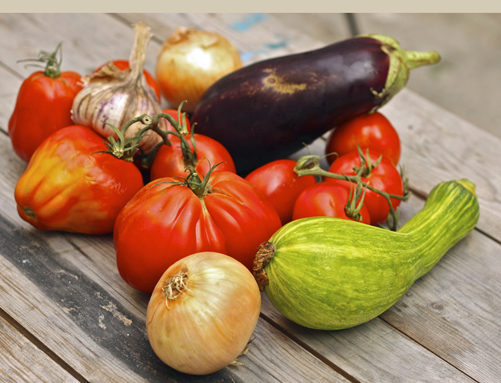 The dish is often referred to in France as Ratatouille Niçoise,, as it originally hailed from Nice. The region where we live, once known as Comtat Venaissin, now known as Provence-Alpes-Côte d'Azur, an area that lies between the Rhône, the Durance and Mont Ventoux, was originally an enclave from the rest of France and has its own version called Bohémienne. The differences between the two are fairly subtle according to ,La Cuisinier Provençale by J.B Reboul. Ratatouille is made with peeled courgettes and aubergines, onions, peppers, tomatoes, a few black olives and seasoned with nutmeg, salt and pepper, whereas Bohémienne is cooked without onions, unpeeled courgettes and aubergines, peppers and tomatoes and seasoned with salt, pepper, chopped garlic and thyme and served hot with grated Gruyère cheese. But according to Stephanie Deméry in her book The Traditional Cuisine Provençale Bohémienne is made without courgettes and the aubergines and tomatoes are peeled and cooked in olive oil and mashed with a fork. Then a sauce is made from anchovy fillets, olive oil, flour and milk and added to the aubergines and tomatoes and poured into a baking dish and sprinkled with breadcrumbs and baked in the oven.
Caroline Conran in Sud de France, has another recipe from the Hérault where celery takes the place of the courgettes giving a crunchier finish. Onions, garlic, green peppers, tomatoes, celery, black olives, a couple of pinches of sugar, bay leaves and thyme are cooked together in olive oil, but the aubergines are coated in flour and fried separately and the tomato, celery and olive sauce poured on top to serve.
Jaques Médecin in his definitive book on Niçois food Cuisine Niçoise Recipes from a Mediterranean Kitchen, suggests that the true ratatouille can only be found in the Comté de Nice (the region between Antibes and Monaco and reaching as far north as Piedmont in the Alps) and that most versions outside of this region bare little relation to this traditional dish. He doesn't peel his courgettes or aubergines, but slices them and coats them in flour. The success of this recipe lies in the fact that the aubergines, courgettes, onions and peppers are cooked separately in four different frying pans (if you don't possess four frying pans he suggests that you can use the same one, cooking each vegetable successively). A sauce is then made with olive oil, chopped garlic, basil, thyme parsley and peeled and seeded tomatoes and when ready is added to the fried vegetables and cooked for a few minutes. Cooking the vegetables separately stops them from being over-done (0vercooking, he says, is fatal) and making the ratatouille mushy. I'm sure he would have shuddered at the sight of what was passed off in the eighties as ratatouille, served in student dorms up and down the country, accompanied by brown rice and cooked in one pot with tinned tomatoes until all was reduced to a mushy mess.
I must confess that my favourite way of cooking ratatouille isn't French at all, but inspired by Nigel Slater's recipe (see link below). The vegetables, onions, garlic, aubergine and courgette are cooked separately in olive oil (using just one frying pan) and then put into a baking dish with the tomatoes on top along with a sprig of thyme and a shake of salt and pepper and then baked. The result is more that of roasted vegetables, which is better than a slushy sauce in my opinion, and the vegetables retain their shape and have a sweet roasted taste to them. The ratatouille can then be served in many different ways; hot as a main meal with new potatoes and cheese sprinkled on top, over couscous with a squidge of harissa paste, as an accompaniment to meat or fish, served cold as a salad or made into a tart.
Here is my recipe for making a ratatouille tart
First the Ratatouille
1 onion, sliced
2 garlic cloves
1 aubergine, diced
1 or 2 courgettes (depending on size) diced
1 red, 1 green pepper, de-seeded and sliced
3 large tomatoes, roughly chopped
3 tbsps Olive oil, or more as needed
A few sprigs of fresh thyme
salt and pepper to taste
Heat the oil in a frying pan and cook the onions and garlic on a medium to low heat until they become translucent, about 10 mins. Be careful not to burn them. Put them in an ovenproof deep dish.
Cook the aubergines, adding more oil if necessary (aubergines like to suck up a lot of oil) and when cooked, add to the onions, then follow with the courgettes, lastly fry the red peppers


Mix the fried vegetables together in the dish and add the chopped tomatoes. Sprinkle with a pinch of salt and a good grind of pepper and top with the sprig of thyme.
Put in a preheated oven at 200ºc for 40 mins.
And now for the tart
500gms ratatouille
Short crust pastry (I usually do as the French and buy it from the supermarket)
3 eggs
200gms of single cream or full fat milk
Pepper and salt
A pinch of cumin
A sprinkling of Gruyère cheese (or goats or cheddar whichever you prefer)
Pre-heat the oven to 180ºc
Butter a flan dish, line it with the shortcrust pastry, prick it with a fork and pre-bake for 15 mins.
Take out the pie base and fill with the ratatouille
Whip up the eggs with the cream add a pinch of salt and pepper and pour over the ratatouille, sprinkle with the cumin (from a height so it falls evenly) and the cheese of your choice.
Put back in the oven and bake for 30 – 40 minutes until the centre of the tart is firm and golden.
Links:Felicity cloake How to make perfect ratatouille
Nigel Slater's Classic Ratatouille
Don't forget to leave a comment telling me your favourite way to cook ratatouille