The first winter I spent in Provence I felt that there was something lacking in the vegetable department in my local market, but couldn't quite put my finger on it.  There were winter vegetables I hadn't come across before, like cardes, or cardoons, and there were plenty of turnips, carrots, leaks, fennel, even Brussel sprouts, but it took me a while to notice what it was I was missing until I looked for vegetables to roast for our Christmas lunch and realised there were no parnips anywhere!
I tried to ask around if anyone knew where I could find some, but I didn't even know the French word for them and my enquiries didn't get me anywhere.  People thought I was asking for radis, raddish, or celeri, celeriac.
It wasn't until I went to some cooking classes in the small village of Flaux outside Uzès, and M.Elena, our chef and teacher, had brought some along to show us how to cook them, that I found out their French name, panais.  Most of the French women in the class had no idea what they were and M.Elena explained that they were an old fashioned vegetable not much used in French cooking since the Second World War.
Maybe it is because the parsnip has too strong a flavour and doesn't blend easily with other veg. in stews, like the turnip; maybe because it cannot be eaten raw and made into a winter salad like the carrot or celeriac, or maybe because the French just don't like the taste, the parsnip has been all but forgotten in France and has become almost exotic.
I have since found suppliers of panais, an organic vegetable producer in Arles and one of the vegetable shops in my town sometimes have them and I served them at our Christmas supperclub last year, where they were as much an anomaly as Christmas pudding (qu'est-ce que-c'est que ça, they all enquired radis?) and now whenever I see them I feel I have to buy them.
A friend recently asked me how I cook them, so I decided to make this soup for her, which is a particular favourite of mine, made with apple and spices. It's not a Provençal dish at all, but maybe with time the French will get to like the parsnip again and they'll be more easily available.
This is what you'll need
Along with some spices, coriander seeds. peeled and chopped ginger, dried chilli and cardemon pods
Pound these in a pestle and morter or with the handle of your knife
Split the cardamon and take out the seeds, chop the chilli.
Chop the onions.  Clean and chop the parsnips
Core and roughly chop the apple
Heat a tablespoon of olive oil in a large pot and add a pat of butter and sweat the onions.
Then add the spices, including a teaspoon of ground cumin and cook for a further minute or two to release their aroma.
Then add the parnips and apple continue cooking for five to ten minutes until they are soft and nicely coated with the butter and spices.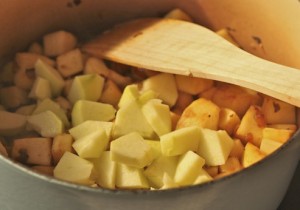 Then add the stock and cook for about 25 minutes.  Add salt and pepper to taste.
Whizz up, sprinkle some chopped parsley and serve with a crusty baguette and a glass of rosé and call it soupe au panais and maybe we'll start a new trend!
Bon appétit!
Spicy Parsnip Soup
3 big parsnips, approx 700gms
1 medium onion
1 small tart apple e.g.bramley
1 tbsp olive oil
20 gms butter
Fresh Ginger, approx 2cm, peeled and chopped
1 tsp coriander seeds
2 cardamon pods
1 dried chilli
1 tsp ground cumin
1.3 litres stock, home-made or powdered
Salt and pepper to taste
Peel and chop the parsnips.
Peel and chop the onion
Heat 1 tbs olive oil and 20gms butter, add the onion and cook gently until soft, approx. 10 mins. Try not to brown the onion, as this will darken the colour of the soup.
Crush the coriander seed in a pestle and mortar or with the handle of your knife. Peel and chop the ginger, split the cardamon pod and release the seeds, chop the chilli. Add the spices to the onion with 1 tsp.ground cumin. Cook for one minute
Add the parsnips and the apple and stir to coat them with the butter and spices. Soften in the butter for approx 5 minutes and then add the stock, bring to boil and simmer for 25 minutes, until the parsnips are soft and mushy.
Whizz the soup and garnish with parsley.  
Let me know if you can find parsnips easily where you live and how you like to cook them.  Come to think about it, I haven't seen many swedes in the market either…..