In early 2011 I attended a foodblog conference in Cancun, Mexico.  One of the attendees was Nancy Singleton Hachisu.  She had flown in from rural Japan, Saitama, where she lives on an organic farm with her Japanese husband and three sons.
Originally from Atherton, California, Nancy went to Japan in 1988 with the intention of staying a year to learn Japanese and then going back to grad. school.  However she hadn't bargained for love and having met organic egg farmer, Tadaaki Hachisu, she never went back.
The couple now lives and works on the farm that belonged to Tadaaki's grandparents embracing a traditional, rural way of life at a time when their generation have left the land to live in the city in search of more lucrative rewards.  Over the 23 years (correct at the time of the book being published) Nancy has honed her knowledge and skills in Japanese farm style cooking which she now teaches and shares with us in this book.
I see parallels with what she describes as happening to rural Japan to what is happening in Provence.   As the old paysanne style of farming is no longer viable for the younger generation, the older producteur, vendeur (producer, sellers) become fewer in my local market.  Younger people have also lost interest in the traditional regional meals their grandparents cooked, turning to generic frozen and pre-cooked meals instead (magret de canard anyone?). It is probably not a coincidence then that the book has a foreword by Patricia Wells, an American passionate about keeping the recipes of her adopted home, Provence, alive.
The book, japanese farm food, is a lovely thing in itself; its spine is bound in indigo fabric and  runs to nearly 400 pages of recipes and descriptions of daily life on the farm, which is brought to life by the vibrant photos of Kenji Miura.
I have never tried cooking Japanese food before, believing that sushi should be left to the professionals and not having had much experience of any other Japanese cuisine, have left it alone.  However, Nancy's description of Japanese cooking methods is simple to follow, and her explanation of Japanese produce is extensive and detailed.    She covers everything in the book from using seaweed to flavour broths to home-made tofu and udon noodles, pickling vegetables and fish along the way.
I wondered how easy it would be to make the Japanese farm recipes using local French produce from the market and decided to have a go.
First up I made the Asari no  miso shiru, miso soup with small clams, as The Artist had bought a big bag of tellines in the market that day.  Tellines are tiny clams that are raked up on the beaches of the Camargue and are usually served with an apero (aperatif) in Provence.  They are prepared by steaming them for a minute or two and dousing them with olive oil, garlic and parsley.
For Nancy's recipe I needed sake, organic brown rice miso, a thin scallion finely chopped or a small bunch mitsuba leaves.  I bought a jar of miso at the nearby bio (organic food) shop, but when I got home I realised it was made with orge, barley, instead of brown rice which is milder and which Nancy recommends.
First I left the clams to soak in a collander with water to rid them of their sand for an hour or two.
Then, the recipe says to cover with 125cl of sake, which I didn't have, so I used some Noilly Pratt instead, a locally made Vermouth.  This is brought to the boil before adding water and bringing it back to the boil until all the clams have opened (discarding those that don't).  Next the miso is whisked into the liquid, I used less than the recipe says as the barley miso is quite strong.   The soup is then poured into bowls and topped with the chopped scallion or mitsuba leaves.  I opted for the scallion, as I had bought some in the market that day.
Here is the result.  It tasted very good, but the scallions were a bit sharp, as they were probably too large (practically leeks).
I had also bought some fresh mackerel and decided to try Namero,  hand-chopped jack mackerel with miso.
The recipe called for very fresh sashimi-grade mackerel, brown rice miso, chives or scallions and a very fresh raw egg yolk.  As there is a very good fish monger in my local market whose fish are caught the day or night before  off the coast of the nearby town of  Le Grau du roi, I was confident about the freshness of the mackerel.
The ingredients are all chopped together.  Again the barley miso was a bit over powering and made the dish look darker than it did in Nancy's photo and looked less appetising, but tasted good all the same.
Another dish i made with the mackerel was Shime Saba, vinegared mackerel.  For this I needed sea salt, 2 – 4 pieces of kombu, rice vinegar a 2cm square piece of peeled fresh ginger, grated and organic soy sauce.  I managed to find everything, but after visiting two Bio shops, couldn't find Kombu anywhere (and it's probably harvested  off the French and British coast under the name of kelp).
For this I  filleted the mackerel and covered the filets with a 1/4″  thick layer of  fine sea salt (French biensûr).
Then put them in the fridge for 30 minutes.  Meanwhile the kombu should have been soaking in the rice vinegar, but as I didn't have any, I went straight to the next step which was to rinse the salt off of the fillets.  I then removed the skin from the fish with a sharp knife and pulled out any remaining bones with a pair of tweezers (remembering to wash them well before putting back in my make-up bag).  Next the vinegar soaked  kombu should have been placed on the belly side of the fillets but I just wrapped the fillets in absorbent paper towel soaked in vinegar and put them in a large re-sealable plastic bag.  I left them to marinate for 30 minutes after which I removed the paper towels.  The fish was now ready to be sliced and served with freshly grated ginger and a small dish of soy sauce.
Despite not having any kombu, this dish was absolutely delicious.  So delicious in fact that I took it to my new friend Grant's house in Maussane to share with my other Maussane friends, Mark and Neassa.  Everyone seemed to like it and I served it with the final dish that I made from the book kabu no shiozuke, turnips and turnip leaves pickled in salt.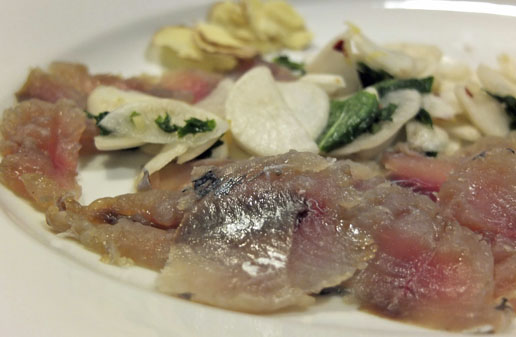 I had found some lovely small round turnips in the market which I sliced and put into a bowl along with a handful of the leaves and sprinkled with 2 tbls of salt which I then massaged into the turnips.  I added the zest of a lemon (Nancy uses a yuzo), some chile flakes (its difficult to find fresh chiles in my market) and some ginger slivers and put it all into a resealable plastic bag and into the fridge for a couple of hours.  I found that the turnips had given off a lot of water and it all tasted very salty, so I drained off the excess water and put the bag back into the fridge over night.  The result was so moreish, the salt, lemon, chile and ginger taking the taste of the simple turnip to new and unexpected heights, that I could hardly stop myself from eating the lot in one go.
I definitely think that this book will have longevity on my bookshelf and will have a lasting influence on the way I cook.  I love the simplicity of a single ingredient enhanced with natural flavours that many of these recipes have.  But then I'm not alone; in the US the book, which originally came out in the autumn of 2012 is already on its second imprint with a third on its way and if a recent article in The Guardian is to be believed, the British won't be far behind.
Links
Japanese cuisine: how washoku is taking over Britain The Guardian, 
Teriyaki Chicken by David Lebovitz who first suggested Nancy write the book
Simply Recipes Nancy Hachisu – Japanese Farm Food
Sharing Lessons from a Farm in Japan – review by David Tanis in the New York Times
Cookbook of the Week: Japanese Farm Food Is Even Better Than Sushi Rice review by LAWeekly
Japanese Farm Food at its Finest review by The Daily Meal
Review of Japanese Farm Food – by Ideas in Food
The Art of Maintaining and Being Maintained by a Japanese Farm – Review in Biographile
Japanese Farm Food, A Book Review – by Amber Stott of Awake at the Whisk
Book Review: Japanese Farm Food − by Stephanie Weaver of Recipe Renovator
Patricia Wells At home with Patricia Wells
Indigo Days – Nancy Singleton Hachisu