From snails (and puppy dogs tails) to sugar and spice and all things nice; I have decided this week to write about chocolate and poppies.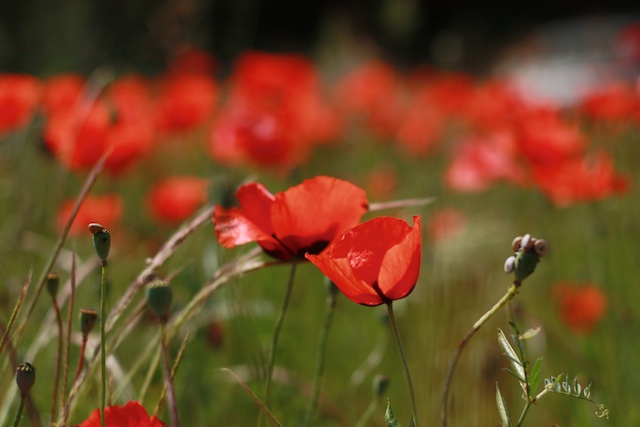 Everyone in and around Saint Remy knows the chocolate shop, Joel Durand; it is more than just a chocolate shop, it is a roller coaster ride of tastes and flavours.  During the summer and the holidays, the shop is jammed with people getting their dose of chocolates.  Myself, I am not a chocoholic, I prefer savoury foods and will always choose the cheese platter over a dessert, but what interests me about Joel Durand is that he uses many of the plants and flowers of Provence to flavour his chocolates.
I arranged to go in and meet him and as soon as I arrive, he offers me a piece of chocolate which is one of his seasonal specials and infused with Lilly of the Valley.  Having never tasted Lilly of the Valley up until now, I am amazed that it does indeed taste just as it smells.
His signature chocolates are square with letters of the alphabet on them, which relate to the ingredient they have been prepared with; for instance L is for Lavande, R is for  Romarin (rosemary), T is for Thym, and so on.  Some of the more unusual ones are J, which is for Jasmin Chug Hau which is made with jasmin tea.  Another S is for Réglisse, (liquorice) which is white chocolate with liquorice sticks, T is for Tiramasu and G is for Guyane, which is milk chocolate with nutmeg, cinnamon and lemon zest.
Besides his stock chocolates he also makes seasonal ones.  For instance from May to November he makes chocolates with salted butter caramel and fresh verbena  and from May to August  dark and milk chocolate with fresh rose petals and almond pralines with pastis and saffron.
He also sells cocoa powder with added flavours; there's lavender, liquorice, nutmeg with cinnamon and lemon zest, cloves with lemon, cardamon, Szechwan pepper etc.  Imagine a cup of this for your breakfast, with a baguette au beurre to dunk in (when in Rome…) and if butter is not enough for you, you can can spread your baguette with raspberry and chocolate jam or peach and fresh mint or even chocolate with fig jam, which he also sells.
And for a mid morning snack, you can tuck into one of his chocolate lollys!
My personal favourites are what are called Les Rochers, (the rocks) and are made with almond chips, covered with dark or milk chocolate and flavoured with lavender or rosemary.
As I am about to leave (armed with some chocolate praline eggs he has pressed onto me) he shows me his recipe book in which all the recipes contain, you guessed it, chocolate.  The book has a 100 recipes which include starters, main courses and desserts.  Some of the more unusual recipes are Pizza with tomatoes, pine nuts and chocolate;  Salmon with butter lettuce and dark chocolate squares, and Daube (stew) made with beef cheeks and chocolate.
At the moment the book is only available in French, but M.Durand is keen to get it translated and published into English.  So if you think you might be interested in having his book, albeit in French, please comment below why you would like to have it and 'like' my facebook page 'provence calling' as I will be giving away a free copy.
Who knows we might even be able to persuade his publishers to bring out an English version!
On the way home from St Remy I came across these beautiful fields of poppies, and decided to make his Gâteau à la graine de pavot et chocolat noir, which is a cake made with poppy seeds and dark chocolate.
Poppy seed cake with Walnuts and Dark Chocolate

70g ground walnuts

if you can't find ground walnuts,
buy regular walnuts and grind them in a coffee or spice grinder

70g poppy seeds
2 whole eggs, separated
70g slightly salted butter
1\2 lemon, juice and zest
1 tsp ground cinnamon
70g sugar.

For the Chocolate Ganache

90g of dark chocolate
70g Heavy cream

For the raspberry jam

240g fresh raspberries
70g sugar
1/2 lemon
Method
First make the jam.  Mix the raspberries with the sugar and the juice of half a lemon.
Bring to the boil and simmer for 40 mins stirring all the time.
Put into jam pots and seal in the usual fashion (either with sealable screw tops or waxed paper and cellophane).
For the cake.  Prepare a 20cm cake tin and pre heat the oven to 180°C.
Grind the poppy seeds in a coffee or electric spice grinder to release the taste of the poppies.
Mix the ground poppy seeds with the ground walnuts, the lemon zest and juice, the cinnamon, the egg yokes and the melted butter.
Then beat the egg whites slowly adding the sugar to stiffen them.
Fold the eggwhites gently into the walnut and poppy seed mixture, using a spatula or a wooden spoon.
Put half of the cake mixture into the cake tin and cook for between 10 and 15 minutes.
Then take the cake out of the oven and spread with raspberry jam.
Put the rest of the cake mixture on top of the jam and put it back in the oven to cook for another 10 mins.
Leave to cool for atleast 2 hours.
Next make the Ganache
Grate the chocolate.
Bring the cream to boil and pour over the chocolate.
Cover the cake with the ganache and cool.
This cake is very delicious and won't stay long on its plate. As an added bonus it is also gluten free!
The shop is at
3, Bd Victor Hugo
13 210 Saint-Rémy-de-Provence
tél : 04 90 92 38 25
http://www.chocolat-durand.com/fr/
Don't forget to leave your comment for a chance to win a copy of Joel Durand's Ma Cuisine au chocolat and also 'like' my facebook page Provence Calling.  I will be picking a winner on the 14th June.  The comments box for some reason is embedded in the Tags below, so click on the comment tag and it should open the comment box